When Starting or Renovating a Restaurant, the Important Thing is the Planning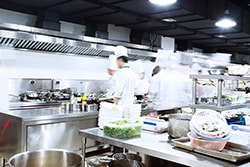 For the layout of your kitchen hotel, restaurant, pizzeria, cafeteria, hospital, residence, CPE equipment or a bakery, bar, convenience store, etc. you must carefully plan your needs in terms of purchases of equipment and professional articles. This milestone represents an exercise that is complex, to say the least – especially if it is your first experience in the field. Fortunately, the experts at Maison Rondeau will guide you through this exciting planning process.
Planning: A Key Step!
A rigorous needs planning based on principles recognized by the restaurant industry is essential to avoid any errors that may affect your schedule, your budget and your production. In other words, without thoughtful planning, you expose yourself to a lot of trouble…
At Maison Rondeau, restaurant equipment distributor, our experts are able to contribute to the development of your project. So in order to properly – and efficiently – plan the layout of your professional kitchen, ask for our services. One of our representatives will analyze your situation in every detail for you to save time and money.
Comprehensive Planning
At our company, our employees have the experience and knowledge to optimize the purchase and installation of equipment adapted to your particular situation. Since our opening, we are masters in the art of advising our loyal customers at their facilities to make them effective and functional, taking into account the following 8 items:
Financial resources
The architecture of the premises
Plumbing systems
Energy sources available (propane gas, electrical, etc.)
The number of employees circulating in the various work areas
The number of workstations (grilling, frying, etc.)
The menu offered
The target clientele
By using our expertise when planning your needs, you get all the necessary information to make informed choices about the acquisition of the following items:
Maison Rondeau: Your Best Choice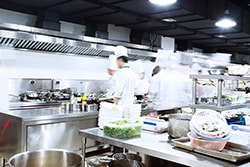 Whether for a freezer, cooktop, oven, stove, refrigerator, dishwasher, dishes or other professional quality equipment, we are able to advise you properly. With our vast multidisciplinary experience and our observations in the field, we can give you good advice and, in addition, offer you very competitive prices.
Ready to plan your needs?
If you want to plan your needs for the development of your project of restaurant or hotel kitchen, visit us at Maison Rondeau. Our team of specialists will be happy to simplify the process by advising you on the ideal products for your requirements, even the most diverse. Contact a consultant today to benefit from our personalized consulting services. Soon you'll have the professional kitchen of your dreams!